Adoption Information

To adopt any of the babies on this page please email lastingmemoriesnnursery@yahoo.com , or call
417-385-3601

I accept PayPal, United States Postal Money Orders and credit card payments. You do not need to have a PayPal account in order to use this service.

I offer in house LayAway where you would make monthly payments to me directly. These are interest free payments. I also offer Bill Me Later through PayPal. Bill Me Later is based on your credit history and you would need to apply for this service. They offer 6 months of interest free payments and the payments would be made directly to them.

PLEASE VISIT THE PAYMENT TERM PAGE TO SEE LAYAWAY TERMS.

All Lasting Memories Nursery Babies come home with the following items:

Three Outfits of my choosing (usually consists of a sleeper outfit, a play outfit and a dressy outfit, plush baby blanket, stuffed toy, faux milk bottle, modified pacifier, little girls come home with hair accessories, socks or shoes, diapers, care instructions, birth certificate, COA and a gift for the new Mommy, this is the standard package and in no way increases or decreases the cost of the reborn. These items are subject to change and are at my choosing.

Any of the babies on this website can be created as a custom reborn baby or portrait baby. There are also thousands of other kits that you can choose from.

I also can repair your reborn baby!

ATTENTION! Click the Facebook logo and come join in the fun. I will be holding facebook auctions on painted kits, premade babies and booboo babies.



Tina Kewy Finn sculpt. Finn is assembled but he is a bald baby. Can be a boy or a girl the choice is yours. Approximate weight and size 18 inches 4 lbs 4 oz. He has 3/4 arms and full legs. Price $599.99 + shipping. Payments for 5 months at $119.99 per month.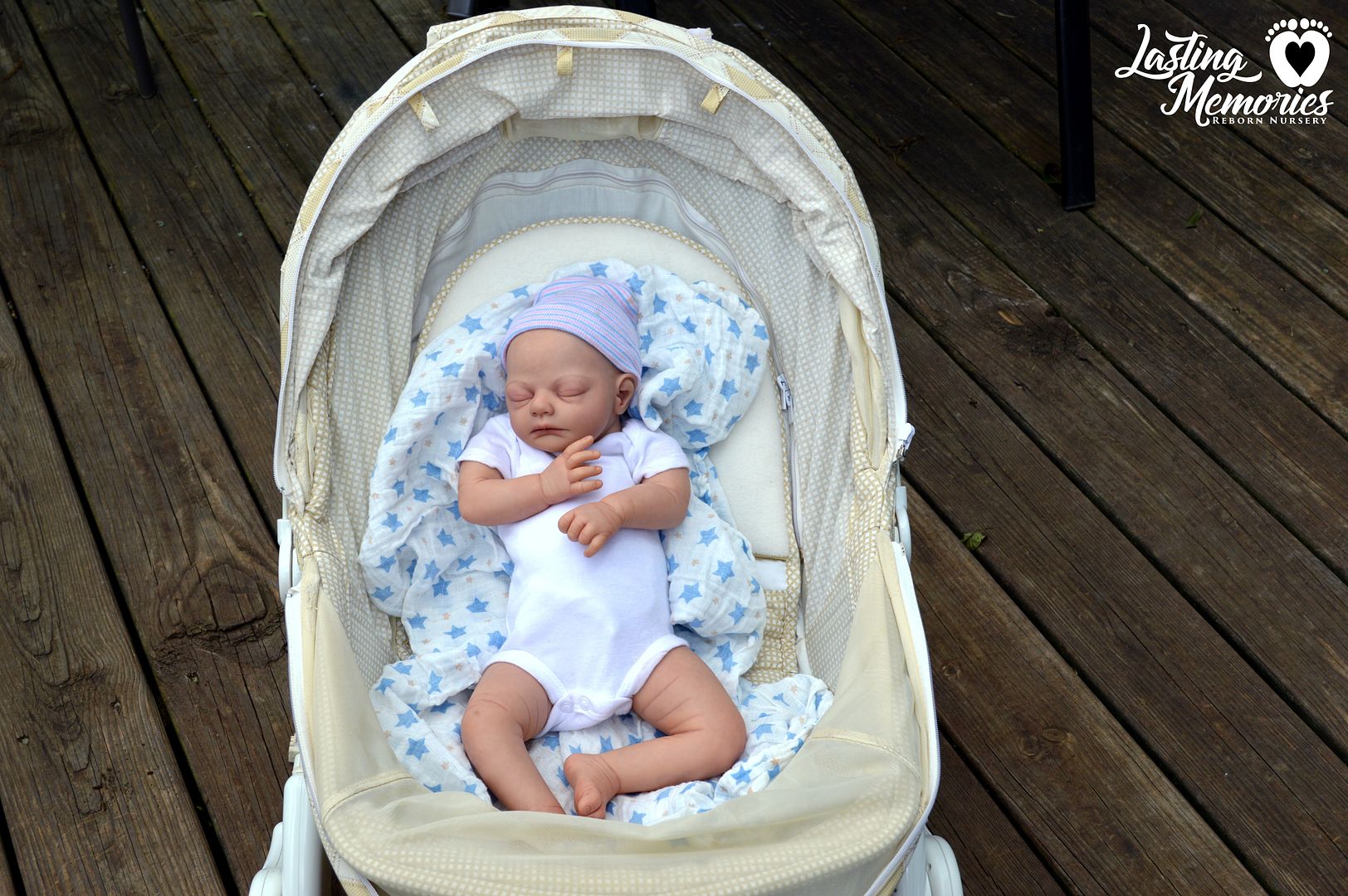 When the Finn kit arrived he had a purple/black mark on the vinyl. Because he was being used to teach a class I camouflaged that mark. Which left a little skin color variation on his one knee.




Available for Adoption

Sculpt Laura Tuzio Ross Vincent

Weight 5 pounds 3 ounces

Length 19 inches

Date of Birth June 17, 2017




Details

Full arms and Legs

Custom Ethnic Doe Suede body

Vincent has been weighted with two forms of glass beads. A very fine glass bead in the limbs and a bigger glass bead enclosed in nylon stockings inside the body and head. Both areas are surrounded by premium polyfill to give him and amazing cuddly feel and weight. He truly snuggles right into your arms

Paint and Hair

Vincent was painted with Genesis Heat Set Paints and sealed with Genesis Glazing medium for protection. He was painted over the course of 3 days in many many layers so that no detail was over looked. He has natural high and low or lighter and darker areas of skin pigment as you would find in a real baby. His hair was rooted with Premium Angora Mohair in a wavy curly style. The color is medium to dark brown. His hair is then sealed from the inside. I use a technique that virtually creates a skull on the inside of the vinyl. Not only does this secure his hair it also gives the feel of a real baby's head.

Eyes

Vincent has Oval Glass dark brown eyes. His eyelashes are applied and double sealed. Eyebrows are drawn on and sealed with varnish in a 3-D effect.

Nose

I do not open my babies noses. I paint them to give the appearance of being open.

Vincent will go home with the following

3 outfits of my choosing with accessories

Baby blanket

Baby Bottle

Lasting Memories Reborn Nursery Pacifier

Stuffed Toy

Diapers

Gift for Mommy or Daddy

COA from Lasting Memories Reborn Nursery

Care Instructions

Hospital ID

Birth Certificate where you can choose all aspects , name, date of birth, parent or parents names. You may also use his actual weight and length or use one that you would prefer.

Lots of Love!

Adoption Fees

Vincent is $999.99 plus shipping

Payment Plan

I can offer a 8 month payment plan. Payments are $124.99 per month. I do billing on the 25th of each month for payment by the 10th of the following month. First payment is due at the signing of the contract. Contracts are done on all babies. If you need a longer layaway or smaller payments please contact me to discuss options.

Please either email me at lastingmemoriesnursery@yahoo.com or call 256-405-4053 with any questions that you may have or if you would like to adopt this little cutie.